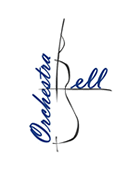 Youtube Playlist:
Check out our YouTube playlist here.
"Like" our Facebook page for current events!
Welcome to the L.D. Bell Orchestra Web site!
Stay tuned for updates about the 2019-2020 school year!
We are in the process of updating our Web site to have the latest information for calendar dates, orchestra information and booster club updates. Please check back often as we will be adding more content in the days and weeks to come.
El Pollo Loco Night 11/20/19
Eat at the El Pollo Loco at 1900 Central Drive on Wednesday, November 20 and tell them you are with the Bell Orchestra. 50% of sales will be donated to the booster club for student scholarships and concert programs.
Krispy Kreme Certificates on sale now!
Certificates are on sale from Moday, Nov. 4 through Wednesday, November 13. Certificates are $9 each, cash or checks to Bell Orchestra Booster Club. They will be delivered the week before Thanksgiving Break.
Disneyworld Trip
The second trip payment is due on Friday, November 22. You must have at least $1050 in your account after making that payment. Checks can be made payable to Bell Orchestra.
Orchestra Pictures 2019-2020
Orchestra Picture Day is Wednesday, October 23. $20 cash and you get all of your digital downloads and a class poster! You won't find a better deal!