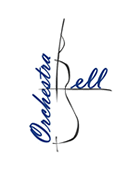 Youtube Playlist:
Check out our YouTube playlist here.
"Like" our Facebook page for current events!
Booster Club
Officers
The officers of the LD Bell Orchestra Booster Club for 2018-2019 are:
Student Accounts
Each time there is a fundraiser sponsored by the Booster Club, funds are held "in escrow" in the Booster Club account until they are needed. The amount your student has raised through these fundraisers will not be reflected in their Charms account until the Orchestra Director requests the funds from the Booster Club. If at any time you would like to know how much your student currently has earned through the Booster Club fundraisers, please contact the Booster Club Treasurer (Jarrett Trusty). Please make sure you include your student's name.
If you want to release money in your booster club account in order to pay for things through the orchestra program, please fill out the booster club release form and turn it in to Mrs. King.
Sponsorship Drive
The Orchestra Sponsorship Drive has started! If you have any questions, please email Mrs. King. The document is linked on this website under the "Sponsors" tab if you need additional copies. Sponsors will have recognition in a full year of concert programs starting from the date in which they become a sponsor, as well as recognition on our website, and at other concerts throughout the year.