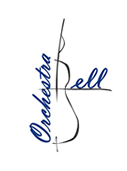 Suzuki Strings
This page is under construction...
Christine Collins-Davis, Viridian Elementary
Christine Collins-Davis began her musical journey at age 5 on the piano, but switched over to the violin as quickly as her parents would allow her. She was an active participant in band, choir, and orchestra throughout her middle school and high school years before attending the University of North Texas to double major in violin music education with a focus in elementary education and oboe performance. Halfway through her time at UNT, Ms. Collins-Davis made the decision to focus full time on elementary music education.
Ms. Collins-Davis taught private lessons in violin, viola, piano, and voice beginning in 2012 at the Frisco School of Music where her violin studio was named "The Most Improved Studio". Culminating her graduation at the University of North Texas, Ms. Collins-Davis moved to Lincoln, Nebraska where she continued to teach privately. Although Ms. Collins-Davis grew up playing repertoire from the Suzuki books, she did not grow up using the Suzuki Method. She took her first Every Child Can and Violin Book 1 course at DFWWoW in 2015 and it completely changed the trajectory of her teaching career. Upon moving back to Texas in 2016, Ms. Collins-Davis accepted a position as a Suzuki Strings Specialist as part of Hurst-Euless-Bedford's Suzuki in the Schools program. In this capacity, Ms. Collins-Davis has the pleasure of teaching students in grades Kindergarten through Sixth Grade the violin, viola, cello, and bass using the traditional Suzuki Method.
Ms. Collins-Davis attended the University of Texas at Arlington from 2018-2021 to pursue a Master's Degree in Music Education where she had the privilege of working with Dr. Diane Lange as a mentor and advisor. During her time at UTA, Ms. Collins-Davis had the opportunity to study the benefits of the Suzuki Method and similar teacher methods as they relate to young music learners. Her thesis discussed the benefits of the Suzuki Method versus traditional string classroom teaching methods and how the Suzuki Method could be especially beneficial to students with Dyslexia.
Ms. Collins-Davis is passionate about the Suzuki Method. Through her work with the Executive Board of the North Texas Suzuki Association, she hopes to continue their work reaching a broad and diverse community of Suzuki students and teachers, as well as encouraging new students and teachers to join our fantastic Suzuki community.
Kristine Fish, Hurst Hills and Wilshire Elementaries
Kristine Fish is currently a Suzuki Strings teacher in the Hurst-Euless-Bedford School district. Much like Dr. Suzuki himself, upon hearing a recording of a violin at 14, she fell in love at first sound. She took traditional violin lessons that happened to learn all of the songs in the Suzuki books. Struggling to read music for the first time and play an instrument, she discovered that listening to recordings of the songs made learning so much easier. Her mom, being a pianist, made it fun to play all of her review pieces. As she studied in college, she wondered what the Suzuki Method was all about and what makes it different from traditional violin lessons. Once she took her Every Child Can and Book 1 course, everything made sense. Before accepting her current position, she taught privately in the Fort Worth Youth Orchestra Suzuki program.
She graduated from the University of Texas in Arlington with a Bachelor's in Music Education and teacher certification where she studied with Dr. Timothy Angel. Kristine Fish also holds an Associate's Degree in Music from Tarrant County College where she studied under Becky Rathbun. When not teaching, she loves performing violin for church services, weddings, funerals, and other events. She is a part of a string quartet named Seasonal Strings and a local world music band named Sombati and 50 Strings: a violin/harp duo.
Amber Gutermuth, Lakewood Elementary
Amber Gutermuth is a product of HEB ISD, starting on the violin in the Suzuki program at Lakewood Elementary at the age of 5 and progressing all the way through the orchestra programs at Central Jr. High and LD Bell High School. At the age of 12 she began to pursue music outside of the classical realm in addition to her Suzuki studies, taking fiddle lessons with Tom Demer and eventually Dale Morris Sr. Amber also studied the acoustic guitar with local instructor Howie Baldwin for 10 years. It was her Suzuki teachers Rachel Holt and Ian Salmon that inspired her to follow the path of a Suzuki teacher.
Amber Gutermuth participated in the Suzuki practice buddy program all throughout high school, after which she began to build a private lesson studio of her own. She attended the University of Texas at Arlington, earning her Bachelor's Degree in Music with education certification, studying violin with Dr. Martha Walvoord and Professor Elizabeth Elsner. After graduating, Amber spent one year teaching 5th and 6th grade orchestra in Mansfield ISD at Alma Martinez Intermediate School Fine Arts Academy. She then returned as quickly as she could to HEB ISD, her home, where she now gets to teach at the elementary school that she grew up at.
Amber is a member of multiple local performing groups including Sombati, a world music band that specializes in Celtic, Bluegrass, Latin styles, Eastern European music and so much more, as well as Seasonal Strings, a string quartet that performs for weddings and black tie events. Outside of school hours, Amber also teaches private lessons and group classes with the Fort Worth Youth Orchestra Suzuki program and sits on the executive board of the North Texas Suzuki Association as their secretary.
Mary Margaret Haraden, Shady Brook Elementary
Mary Margaret Haraden was hired by HEB ISD to teach violin in their new Suzuki program in 2001, and is the last original hire. She now teaches violin, viola, cello (LOTS of cello!), and bass at Shady Brook Elementary. Her first Fine Tuners assignment was assisting with the cellos. She then co-led the violin group, and has been assisting with the viola group for over 10 years.
Mary Margaret began playing violin using the Suzuki Method at the age of 4 ½ when a friend of her mother's wanted to begin two young students. She earned Bachelor of Music and Master of Arts degrees from Texas Tech University, as well as a teaching certificate. She began teaching violin in the TTU Suzuki Strings Program as an undergraduate student, and also taught 11 music theory classes for the Suzuki students every week. Before moving to HEB, she taught violin in the Amarillo College Suzuki Program where she had been a student.
Dr. Kate Jones, Hurst Hills Elementary
One of three Suzuki Bass Teacher Trainers, Kate Jones studied with Jeff Bradetich at the University of North Texas, where she completed her Doctorate of Musical Arts in the summer of 2014. Before moving to Texas, Kate received her Master of Music degree at Cleveland Institute of Music with Max Dimoff and Jeff Bradetich, and her Bachelor of Music degree from Illinois Wesleyan University with Judith Hanna. In the fall of 2014 Jones joined the faculty of Hurst-Euless-Bedford ISD as the Suzuki Bass Specialist. She performs in the Richardson Symphony as a section bassist, among other regional orchestras. In the past she participated in FAVA France and Music School Festival Orchestra at Chautauqua Institution. She has been a clinician/presenter at the SAA Conference and the International Society of Bassists conference. She completed her Suzuki Bass Book 5 training with Virginia Dixon, and studied George Vance teacher training courses with Johnny Hamil. She has taught at such festivals as Austin Suzuki Institute, Colorado Suzuki Institute, DFW WOW Suzuki Institute, the University of Wisconsin—Stevens Point Suzuki Institute, Rabbath Institute of LA, Austin Bass Workshop, Kansas City Bass Workshop, Ozark Mini Bass Project, and Viva el Bajo. Dr. J has been teaching for Hurst Hills Elementary for 10 years.
Christopher Mattaliano, River Trails Elementary
Chris Mattaliano is a Suzuki Strings Specialist for the Hurst-Euless-Bedford Independent School District maintaining a private studio of 50 students, ages 5-16. As a professional violinist, he currently serves as the concertmaster of the Mesquite Symphony Orchestra. In past seasons, Chris has appeared as a soloist in numerous performances with the Texas Chamber Music Project, and as a featured guest artist with the Fort Worth Chorale. Chris has distinguished himself as a music educator, presenting multiple poster sessions at the 2018 Suzuki Association of the Americas Conference, and is in growing demand as a guest clinician at workshops around the state and country. With a passion for arts administration, Mattaliano has served on the executive board of directors for several orchestras in the Dallas-Fort Worth Metroplex and is the former vice president of the North Texas Suzuki Association. Mattaliano started his studies in violin at the age of 4 and holds two degrees from Ithaca College as well as a dual masters degree from the University of Minnesota in violin performance and Suzuki pedagogy. While completing his studies, Mattaliano held principal and concertmaster chairs of the University of Minnesota Symphony Orchestra for several projects. In his spare time, he enjoys playing jazz guitar with multiple big bands around DFW.